Trump's tweet creates uncertainty about politics
WASHINGTON
November 9, 2017
 - one year after Donald J Trump won the US presidential election. The "swamp" remains. Congress is more paralyzed than before and the American electorate is divided into two camps with a clear 
Rudyard Kipling
 warning: 
… never the twain shall meet
 . On one outer flank, the favorite rhyme is "it is not normal for a president…". On the second "best and strongest president ever" opposed by liberal elites, hard-line enemies in the media and pk fundamentalists.
Most can,
 however, agree that Donald Trump is different from all representatives in US presidential history. One reason for this is his direct channel out of the bubble that the procession and the fenced-in White House constitute - namely Twitter. He points out up to a dozen 
messages
 a day in a blissful mix of policy statements, congratulations, boasting, insults and comments on current events. Sometimes misspelled, sometimes incorrect statements. But this flow gives an insight into both his way of working, thinking and personality. Bland det som kan utläsas är irritationen över att Hillary Clinton fick fler röster i förra årets presidentval, att ilskan över Rysslandsutredningarna kokar inom honom och att han vet hur man spelar på patriotiska strängar i det ständiga så kallade kulturkriget.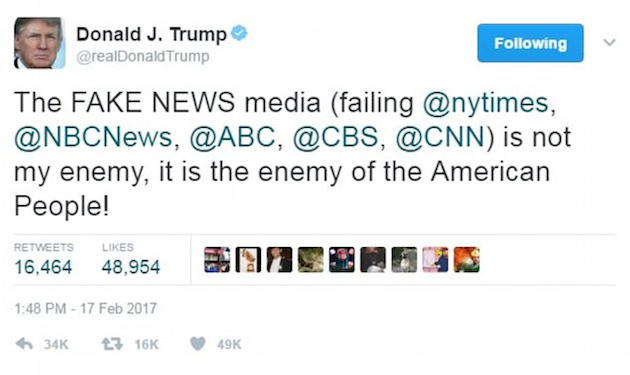 Donald Trump is convinced
 that he is reaching out to his constituents and can effectively round up the media he has branded as "fake news". "Bing, bing, bing" he recently stated about how fast he can think something. In fact, he creates uncertainty (in addition to the other uncertainty about judgment and competence). Tweets about the Iran agreement and the wall against Mexico were never followed by concrete actions - and after warning the South Korean president and his own foreign minister that diplomacy in the case of North Korea is a waste of time, he changed his footing. Not on Twitter, but on location in Seoul with statements about progress in contacts. Not with "Rocket Man" this time, but Kim Jong-Un. For the Twitter group, first the candidate's, then the president's diligent use, has probably been positive. Lots of people, not least politicians and journalists, check and react all the time. But it became embarrassing when it emerged that an employee had shut down Trump's account on his last day at work. Trump's critics, of course, made fun of the 11-minute silence, but it showed the weaknesses of social media.
Office slave Dilbert's creator
 , Scott Adams, discovered Trump's talents as a communicator early on and is now part of his fan base. Adams recently published the book "Win Bigly" and the subtitle "Persuasion in a world where facts do not matter". Adams praised Trump in a debate article in the Wall Street Journal for allowing the audience to think one step further. When Trump says that Mexico will pay, the buyers / voters have drawn an existing wall in their heads. But others, who do not live on cartoon characters and sales skills, warn that tweeting is dangerous. In the long run, it can not replace solid guidelines in the legislative work. The short, sometimes clumsy wordings appear poor and meager compared to the winged words uttered by presidents during war and after terrorist attacks. Trump may soon appear annoying with his hacking of traditional media.
All too often casting
 an opinion without checking with the Pentagon or the Foreign Ministry undermines confidence in the political system. The threats against the Ministry of Justice and the FBI indicate that he does not respect the dividing lines between the White House and the judiciary or exactly the dictatorial move that the opponents observed already during the election campaign. So there are risks to Trump's shout-out wolf, but he shows no signs of listening to things like 'I would like him to stop tweeting' in voter interviews, and presidents are also covered by freedom of speech and the press. And, by the way, Twitter has just increased the number of characters allowed to 280. This also divides the Americans. In one group, the opportunity for Donald Trump to get more space is welcomed, in the other it is moaned that it will be twice as much from him as before.